NiceScroll extension released.
Posted: Fri Oct 18, 2019 9:48 am
NiceScroll makes it possible to customize the scrollbars of your website with the look and feel of iPhone/iPad scrollbars.
This extension is a wrapper for the NiceScroll jQuery plugin by InuYaksa:
https://github.com/inuyaksa/jquery.nicescroll
More information
https://www.wysiwygwebbuilder.com/nicescroll.html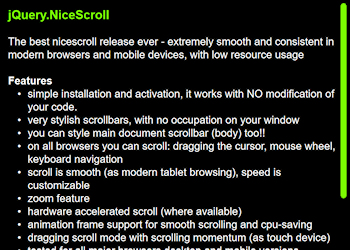 You can download the new extension via the Extension Manager: Menu->Tools->Extension Manager->Online Gallery->Miscellaneous
Please read the included (PDF) document for help.