Het ID attribuut bepaalt een uniek id van een HTML element (de waarde moet uniek zijn binnen de context van de pagina).
Het ID attribuut wordt gebruikt om stijlen (in de CSS style sheet) te koppelen met het object, en door JavaScript om het object te kunnen manupuleren.
Wanneer het ID niet uniek is dan zullen er meerdere style definities voor hetzelfde ID bestaan. In dat geval zal de browser alleen de laatste style gebruiken.
Ook zullen meerdere objecten met dezelfde ID die JavaScripts gebruiken (zoals menus, events, carousels, jquery object enz) niet goed functioneren.
Het is dus HEEL BELANGRIJK dan alle ID's uniek zijn binnen de context van de pagina!
Normaal gesproken geeft Web Builder ieder object automatisch een uniek ID. Maar als één of meerdere master pagina's worden gebruikt binnen de pagina dan kunnen er dubbele IDs ontstaan, omdat de software een master pagina niet kan onderscheiden van een 'normale' pagina.
Om te controleren op mogelijke conflicten, gebruik de optie Menu->Extra->Fout Rapportage.
Je kunt de ID van een object aanpassen in de Property Inspector: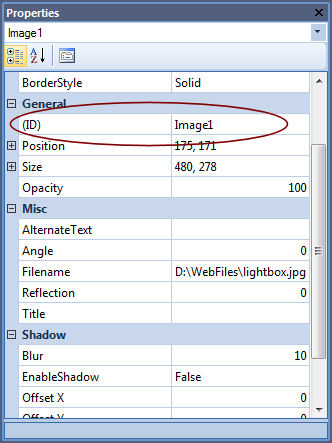 Of in de Object Manager: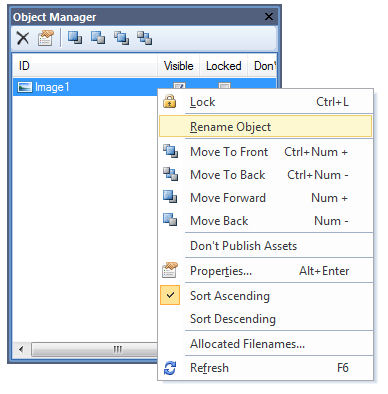 Voor objecten op een master pagina zou je een prefix zoals 'MasterPage_Text1' kunnen gebruiken, zodat duidelijk is dat het object onderdeel van een master pagina is.
Je zou ook de optie 'Pagina naam gebruiken in automatisch gegenereerde ID attributes' in Menu->Extra->HTML kunnen activeren waardoor de pagina naam wordt toegevoegd aan de automatisch genereerde ID voor
nieuwe objecten
.