Ultimate Page Scroller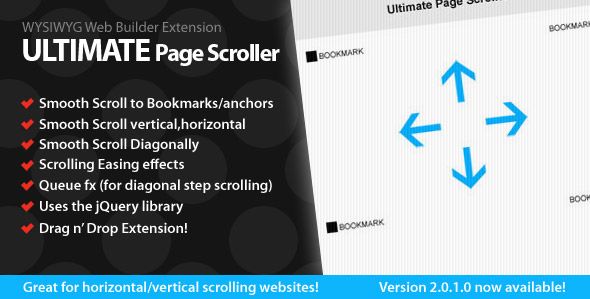 Description
scroll a page to any location using bookmarks/anchors.
What does it do?
This extension will scroll to your bookmarks/anchors anywhere on your screen, vertically, horizontally and even diagonally!
Example
Create a page with height & width of 5000px and place bookmarks anywhere on the screen. Add some text and link to the bookmarks and watch it scroll to your destination.
How to use…
Drag and drop this extension. Add bookmarks to your page and link your text/images to that bookmark. Great for horizontal & vertical scrolling websites!
Download
Via: Extension Manager
Via:
http://www.funky5.co.uk
UPDATE 21/03/2012
Added:
Easing effect to the page scroller.
Added:
Queue fx (use steps for diagonal scrolling)
Fixed:
Easier selection choice for directional controls.
Fixed:
Easier selection of Jquery usage.
UPDATE 26/03/2012
Fixed:
Auto selection of Jquery usage.
UPDATE 27/06/2013
Added:
Mouse Event (click/mouseover).
Added:
jQuery version (select either 1.7.2/1.9.1/No jQuery)
Fixed:
Now works with WB version 9.
UPDATE 20/04/2014
Fixed:
Now works with WB version 9 (bugs fixed).
Credit goes to
supersonictt
for the 'queue fx' idea.
UPDATE:
I'm no longer supporting any of my old extensions as most of my extensions can now be produced within the software itself. If you continue to use, please note that they are no longer supported and no reply will be posted by the author.
Cheers,
Scott