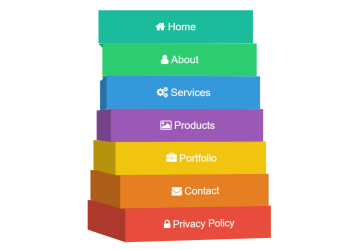 Block Tower Menu (PAID)

The Block Tower Menu implements an animated "block tower" menu. Each menu item can have a different background color.

The menu has support icon libraries, like Font Awesome, Material Icons, Open Iconic, IonIcons etc.
Icons can also be published as embedded SVG to keep the page weight low.
Demo
http://www.wysiwygwebbuilder.com/support/blocktowermenu.html


Download demo version (save disabled)
Block Tower Menu Extension


Requirements:
WYSIWYG Web Builder 12.1 or higher
WYSIWYG Web Builder 16.1 or higher for Icon Library support


Navigation Extensions Pack Discount
This extension is also part of the Navigation Extensions Pack - Volume 4 which includes 10 menu extensions for only $29.95!