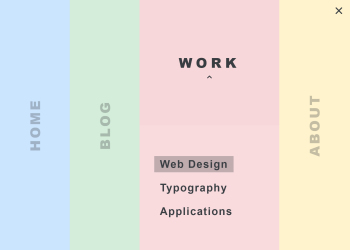 Nested Fullscreen Menu (PAID)

The Nested Fullscreen Menu is a colorful multi-level fullscreen menu (main + sub items) with animations inspired by a codepen by Rafaela Lucas (https://codepen.io/rafaelavlucas/pen/JjPGNdq).

The menu is triggered by a hamburger icon. Main menu items can have a different color. Built-in Icon library support, like Font Awesome, Material Icons, IonIcons etc. Icons can also be published as embedded SVG to keep the page weight low.
Demo
http://www.wysiwygwebbuilder.com/support/nestedfullscreenmenu.html


Download demo version (save disabled)
Nested Fullscreen Menu Extension


Requirements:
WYSIWYG Web Builder 12.1 or higher
WYSIWYG Web Builder 16.1 or higher for Icon Library support


Navigation Extensions Pack Discount
This extension is also part of the Navigation Extensions Pack - Volume 4 which includes 10 menu extensions for only $29.95!